Danielle Kelleher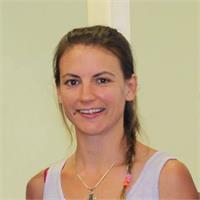 Danielle Kelleher has been teaching yoga as a physical practice for 13 years. In the time she has been teaching she has remained constant in her love of Forrest and remained devoted to a light direct approach to her students. She believes that people come to their mats for many different reasons but hopes they leave feeling more self sufficient and confident in their body and life. Danielle's main teacher and inspiration is Ana Forrest, who reminds her that life and practice are ever evolving. She holds a Masters in Depth Psychology, which helps her approach every student as being unique, and she intends to bring broad perspectives and fun to the mat!
Danielle Kelleher instructs the following:
Upbeat and uplifting, this heated flow class is the perfect way to de-stress from the work week and prepare your body for the weekend to come. All levels will enjoy this fun, safe and energetic practice! Heated (95-105°).




Intelligently sequenced Vinyasa-based class accessible to all levels. Includes variations of sun salutations, focusing on breath and alignment as you flow through this dynamic practice. The pacing is appropriate for beginners to learn poses and experienced practitioners to explore poses more deeply. All levels will enjoy this fun and energetic class. Room is heated.




Vibe Yoga 50-Hour Continued Education Training Modules

A Yoga Alliance Certified, All-Level Education for Students & Teachers

$1000

This training will offer four of Sonoma County's finest teachers, all expressing their most unique gifts to assist you in developing YOUR own gifts! Explore what makes yoga valuable and passionate for you, and work to develop your voice and your authentic self. This training is appropriate for both teachers and students of yoga and is certified through Yoga Alliance as Continued Education hours.

Experience the skill set that these fierce women have developed through years of teaching and training. Come and ask questions about your practice, your experience of teaching, and your desire to join our unique Continued Education training. This is an opportunity to explore and create together and to develop and expand on your unique gifts!

Creativity in Sequencing

with Danielle Kelleher, MA

20 Hours

Oct 7 & 8 and Nov 4 & 5 (12 - 5pm)

Learn how to plan a class from seed to its finest fruit. Teach more intuitively from your body and listen to how the body wants to warm and create the most exquisite freedom. Not a teacher? Deepen your personal experience within your own body and learn to create more real sequencing. If you are going to practice in a real way/teach in a real way, it has to come from a completely viable and changeable source. Learn to trust yourself and all the weirdness and love of yoga that is your true voice and body.

Danielle has 15 years of teaching experience and 700+ hours of training.

The Spirit of Touch

with Kelliann Reginato

10 Hours

Oct 14 & 15 (12 - 5pm)

Practice seeing people on both physical and emotional levels and perfect the art of assisting all body types as individual spirits - aesthetically, physically, verbally and spiritually! Celebrate each practice as an opportunity to engage in ceremony with mind, body & Spirit. We will dive into weaving emotions and intentions into our yoga practice and will study how to SEE students and ourselves both within and outside of the physical realm. This module is all about TOUCHING the hearts, bodies and spirits of others.

Structural Alignment

with Molly Vogel

10 Hours

Oct 21 & 22 (12 - 5pm)

This module will focus on the details of how to do Forrest Yoga poses, as well as the principles of skeletal alignment. When our structure is properly aligned in poses, they become easier! This ease of movement allows us to both get out of tightness and/or pain in poses and progress into more advanced and balanced variations. We will hone in on the details of alignment to breathe fully, to learn what, where and how to feel, and to explore healing moves. We will learn how to feel when in correct alignment and how to practice in a way that is truly strengthening. Additionally, we will discuss the effects of continuing to do poses unaligned, a process which inhibits us from safely going deeper or progressing!

Restoration of Self

with Sarah Klein

10 Hours

Oct 28 & 29 (12 - 5pm)

This module will guide students and teachers in the direction of using yoga to restore balance physically, emotionally and spiritually. Learn how to guide meditation and also develop a deeper understanding of sequencing classes that are more restorative and appropriate for students with injuries or other limitations. Lifestyle and Ayurvedic medicine will be studied as a means of creating more internal balance. Additionally, this module will work with yoga for grief, emotional healing and stress reduction. Basic safety in Pre/Postnatal yoga will also be explored.

Want to learn more? Join Danielle, Kelliann, Molly & Sarah on Sunday, Aug 27th, at 12noon to hear more about each module and to find out if this training is right for you.