Danielle Kelleher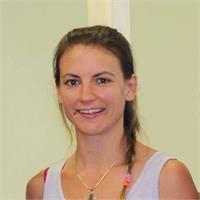 Danielle Kelleher has been teaching yoga as a physical practice for 13 years. In the time she has been teaching she has remained constant in her love of Forrest and remained devoted to a light direct approach to her students. She believes that people come to their mats for many different reasons but hopes they leave feeling more self sufficient and confident in their body and life. Danielle's main teacher and inspiration is Ana Forrest, who reminds her that life and practice are ever evolving. She holds a Masters in Depth Psychology, which helps her approach every student as being unique, and she intends to bring broad perspectives and fun to the mat!
Danielle Kelleher instructs the following:
VibeFLOW Informational Session & Social
Sunday, Dec 17, 2017
11:30 am - 12:30 pm



$2599 Early bird pricing available until 8/31/17

$2999 Investment

VibeFLOW Lead Instructors: Molly Vogel & Danielle Kelleher

VibeFLOW Teacher Training is a Forrest Yoga-based training for both aspiring yoga teachers and those wanting to grow and flourish within their own personal practice and evolution. This Yoga Alliance Certified Training is designed for your personal growth - to become the best version of yourself - while learning the tools to safely and successfully teach yoga to people of all levels and ages, while strengthening and deepening your own practice. You will also be invited to go deeper into your psyche to better understand who YOU are!

Upon graduation, you will walk forward with so much new and interesting knowledge and a 200-Hour certification to go out into the world and immediately teach, if that is your desire.

VibeFLOW welcomes all levels, all bodies, and all ages. No formal yoga education or extensive yoga experience is required. Join us in the commitment to "Live Inspired."

VibeFLOW curriculum includes

:

- Modern Yoga Techniques & Practices for Us, Today

- Safe & Effective Sequencing for Progressing in Poses & Healing Injuries

- Proprietary VibeFLOW Sequence

- Functional Anatomy & Physiology

- Hands-on Assists

- Deepening Your Understanding of Yourself To Authentically Teach

- Effective Teaching Methods & Processes

- The Business of Yoga

- Cultivating Your Individual Voice and Style

- Health & Nutrition

- And Much More!

Feel free to contact Molly with additional questions! 707.234.9954




Intelligently sequenced Vinyasa-based class accessible to all levels. Includes variations of sun salutations, focusing on breath and alignment as you flow through this dynamic practice. The pacing is appropriate for beginners to learn poses and experienced practitioners to explore poses more deeply. All levels will enjoy this fun and energetic class. Room is heated.




Upbeat and uplifting, this heated flow class is the perfect way to de-stress from the work week and prepare your body for the weekend to come. All levels will enjoy this fun, safe and energetic practice! Heated (95-105°).