Tiffany Cardenas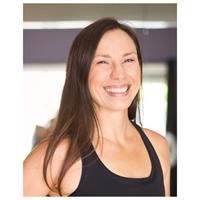 Tiffany fell in love with yoga when she was pregnant with her first child, and practiced prenatal yoga throughout both of her pregnancies. After having two children, yoga became her "me time" and helped her be a more patient mother. It also helped her on her fitness journey after realizing two pregnancies and aging were taking their toll on her body and health. She decided to share her love of yoga with others through teaching Vinyasa, Gentle, Yin, Prenatal, Senior, and Kids Yoga. Her attention to detail lends to descriptive cues, and she offers options for all levels.
Tiffany Cardenas instructs the following:
This heated vinyasa style class focuses on alignment and "flow," connecting breath and movement. This dynamic sequence incorporates beginner movements at a brisk pace to provide a full body cardio workout and stretch. All levels will enjoy this fun, safe and energetic practice.




A sweet, stretchy rejuvenative practice. This class uses a gentler approach to movement that encourages a more flexible and comfortable body. All levels, not heated.