Chris & Mari Coppinger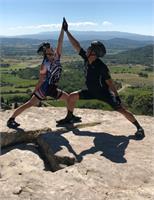 Chris Coppinger
Chris builds his yoga philosophy and practice from the foundation and pursuit of a healthy body and mind. He teaches with a focus on the development of strength, balance and flexibility using sound principles of alignment while encouraging mindful awareness of body and breath.
His deepened commitment to yoga grew from an active lifestyle and many years of training and teaching martial arts and personal development. He is an active athlete who enjoys cycling, trail running, surfing and dual sport motorcycling.
Chris completed his Yoga Alliance RYT 200 hour certification and continues his training at the White Lotus Foundation with Ganga White and Tracey Rich. He is also currently working on an RYT 500 hour certification with Mark Stephens. He draws further influence from completed workshops, trainings and classes with Mark Stephens, Shiva Rea, Baron Baptiste and a world of inspiring yoga teachers and students.
Mari Coppinger
Mari has been practicing yoga for more than 20 years using her earliest practice as a way to soothe the physical strains of a very active, athletic lifestyle. Through her continued dedication to yoga she has realized that connecting your mind and body is the key to positive living and the path to that connection is yoga. Her yoga journey revealed that the benefits of a regular yoga practice can include the aesthetic results of a supple, strong body but more importantly that a regular practice leads to the creation of a deep sense of vitality and well-being.
Mari's yoga guidance is a blend of her diverse training, athletic adventures, and life experiences. She emphasizes a sustainable practice of mindful breathing, proper alignment, and flow of movement, to create presence, awakening, balance, strength, flexibility, and relaxation. Mari holds RYT 200 hour certifications from the White Lotus Foundation training with Ganga White and Tracey Rich and California Power Yoga training with Anna Guhin. She is currently working on an RYT 500 hour certification with Mark Stephens and has also completed Level One Training with Baron Baptiste.
Mari was born and raised in California and spent much of her youth water skiing, in team sports and riding horses. Her more than 10 years of training in and teaching martial arts, street self-defense and personal development further contribute to her well-rounded approach to guiding yoga. She is an outdoor enthusiast and enjoys cycling, mountain biking, trail running and long distance triathlon events.
Chris & Mari Coppinger instructs the following:
Join Chris & Mari of 2up Yoga for a vigorous practice focusing on strength, flexibility and stability. Moderately heated to 85 degrees. All levels welcome.

"Strength without rigidity, flexibility without instability"