Level 1 Vinyasa (H)
This class is taught by:
I stumbled upon yoga close to 12 years ago. I was young and wild with a desire to experience anything and everything within my reach. After my first class, I felt filled to the brim with a vibrant energy I had never experienced before… a natural high. I was instantly hooked.
Throughout the years, my love for yoga has only continued to evolve. This practice has healed me in more ways than I can count, and changed me for the better. Yoga has become my sacred space, a space where I can achieve balance and truth in the midst of chaos.
Inspired by my healing, in the fall of 2012 I attended my first RYT 300-hour teaching certification in Portland, OR learning both Hatha and Vinyasa teaching styles. Months later I completed an additional 50 hours of therapeutic yoga training through Living Yoga, an Oregon non-profit offering yoga to youth and adults in prisons and drug and alcohol rehabilitation centers. Most recently I have completed a RYT 200-hour Foundation Teacher Training with Ana Forrest, and I hope to continue my education within the Forrest Yoga community in the near future.
Through my teaching, I aim to inspire others to create a sacred space for themselves that will provide the same sense of healing that I have experienced from simply committing to my yoga practice.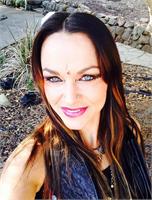 As a teenager my first passions were surfing, snowboarding, rollerblading half pipe and weight lifting. I was introduced to yoga in 1997 upon arriving to Venice California from my first home in N.Y. Here, I had the wonderful opportunity to be inspired and learn from many amazing teachers including Shiva Rae, Micheline Berry, Saul David Raye and many others. Simultaneously I fell in love with freestyle dance forms as well as flow arts, fire dancing and making my own costumes. At this early stage I studied Shiatsu, basic Chinese medicine, Tai Chi, Massage and Reiki, thus began my practice as a therapist in the healing arts. I knew then that I would teach yoga someday. Soon after, I was trained to become a raw foods chef, furthering my knowledge of nutrition and healing with whole and super foods.
By 2005, I gave birth to my first child and relocated to Northern California. Here I dove deep into my dance, performing as a fire dancer in the troupe Luminesque, produced my first clothing line, co-founded the performance company Visionary Alliance and taught hula hooping to many. I found that after every yoga class I attended, I would have a deep overwhelming thought that I should teach, this rung in my being very clearly. Through dance and yoga, I healed body aches, pains, injuries, and found samadhi, ecstatic bliss, inner peace, and I wanted to share it!
In 2014, I had the opportunity to complete my first 200RYT training with Amy Sullivan and Jenay Martin in their Roots and Wings program. I continue to practice and learn from many teachers in many styles. I enjoy variety, not only one way: a student for life. As I cultivate myself as a teacher, I draw from all the influences in my life, weaving a rich tapestry into my classes, often including meditation, pranayama and qigong. My offering is "gentle expansiveness though movement medicine," creating space within, space to quiet the mind, to cultivate discipline, to push past self limitations, to explore, play, have fun and be at peace within our body temples, so we may enjoy long lives of thriving heath and wellness. I am infinitely grateful to be able to share with my community, as well as excited to continue to blossom in my own practice.
Follow your breath through this energetic but slower-paced Vinyasa class in a heated room. Appropriate for all levels, we will break down the fundamentals of alignment while building a deeper connection to our breath. Longer holds will give you the time to explore your body in each posture, while helping to build strength and flexibility. Prepare to breathe, move and sweat!