Kona Flow (nh)
This class is taught by: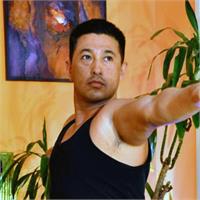 Kona's journey into health, wellness and spirituality started at the age of 19, when he first began to embrace the Buddhist philosophy while studying at the Calistoga Massage Therapy School and preparing for graduation. Throughout his life, Kona has always pushed himself to master new things. Traveling around the world for a period of two years, Kona studied yoga, fitness, massage, haircutting, fire dancing, nutrition and cooking.
Upon returning to America, Kona attended the Neuro Fitness Institute of Santa Rosa, obtaining certification as a master neuro-linguist and gaining employment as an assistant instructor. During this same period, Kona founded the Poitastic Fire Dancing School of Santa Rosa, the first of its kind in the area.
After gaining significant experience as a teacher in various arts and disciplines, Kona was ready for a new challenge. With 15 years of personal yoga training, Kona was ready to immerse himself in both the practice and the lifestyle. Specializing in North Indian classical yoga and modern Mysore, Kona graduated from Ananda Seva Mission, becoming a yoga alliance certified instructor. With this highly developed foundation of knowledge, Kona continued to enhance his education by seeking out and training with yogi masters such as Shiva Rea, Micheline Berry and Mark Whitwell. Now, after years of formal study and personal instruction, Kona was inspired to develop his own personal yoga regime, which he calls Kona Flow.
Kona Flow is a fusion of North Indian classical and modern Mysore yoga techniques, with an additional work out component. This unique style emphasizes balance, stamina, strength and flexibility. Performed to flowing music, this style also incorporates Kona's formal background in neurolinguistics. Non-heated.